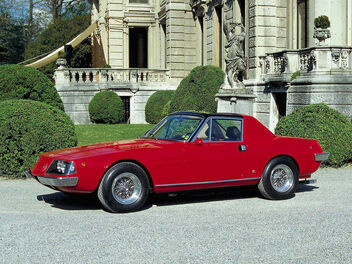 In 1974, Chinetti commissioned this 330 Convertibile. It was Zagato's tenth Ferrari and was inspired by the 3Z Spider, albeit with significant changes.
The name Convertibile reflected the type of body, which this time was fitted with rear pillars and a targa-type removable rigid roof.
At the rear, this convertible's tail was noticably higher and heavier than the first version. The rear light clusters were also modified and recessed in smaller niches than before. At the front, the headlights were covered with a darkened plexiglas cover.
The convertible, which was a light red, looked strong and marginally heavier than the Spider, which was probably Chinetti's intention, so as to bring out the Convertible element.
Ad blocker interference detected!
Wikia is a free-to-use site that makes money from advertising. We have a modified experience for viewers using ad blockers

Wikia is not accessible if you've made further modifications. Remove the custom ad blocker rule(s) and the page will load as expected.